What is Austenitic Stainless Steel 904l:
Grade 904L stainless steel is a non-stabilized austenitic stainless steel with low carbon and high alloy content. This high alloy stainless steel is added with copper to improve its resistance to strong reducing acids, such as sulphuric acid. The steel is also resistant to stress corrosion cracking and crevice corrosion. Grade 904L is non-magnetic, and offers excellent formability, toughness and weldability.
904L Stainless Steel Suitable for all kinds of sulfuric acid under 70℃, under the pressure of any concentration, any temperature of acetic acid and acid and acetic acid mixed acid corrosion resistance is also very good.
Grade 904L contains high amounts of expensive ingredients, such as molybdenum and nickel. Today, most of the applications that employ grade 904L are replaced by low-cost duplex stainless steel 2205.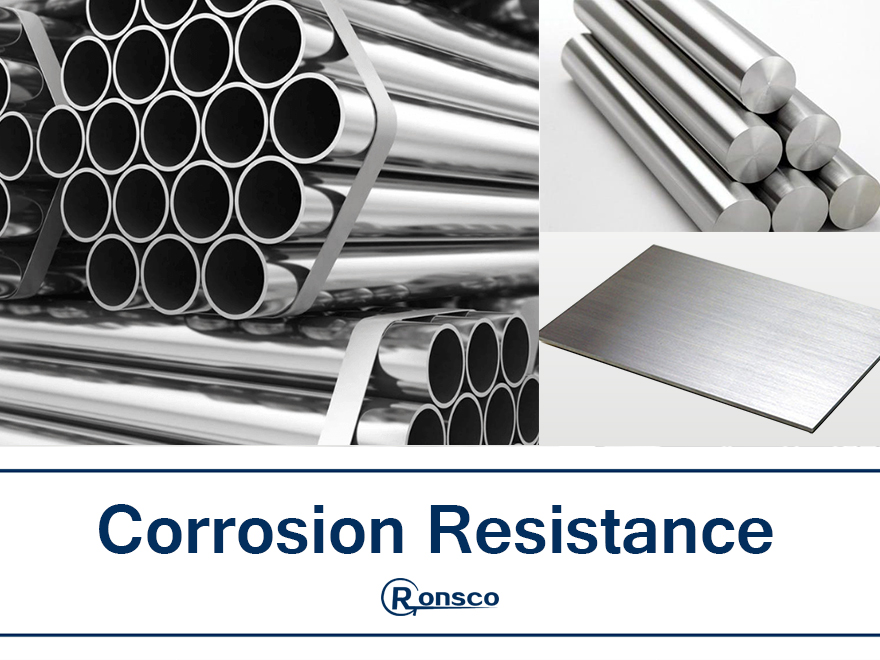 904l steel properties and KEY Features:
Key Properties
The following sections describe the properties of flat rolled products in ASTM B625. The specifications may not be identical for other products such as bar, tube and pipe.
Composition
The table below provides the compositional ranges of grade 904L stainless steels:
Table 1. Composition ranges of grade 904L stainless steels:
| | | | | | | | | | |
| --- | --- | --- | --- | --- | --- | --- | --- | --- | --- |
| Grade | C | Mn | Si | P | S | Cr | Mo | Ni | Cu |
| 904L Min | - | - | - | - | - | 19 | 4 | 24 | 1 |
| Max | 0.02 | 2 | 1 | 0.045 | 0.035 | 23 | 5 | 28 | 2 |
Mechanical Properties
The typical mechanical properties of grade 904L stainless steels are given in the table below:
Table 2. Mechanical properties of grade 904L stainless steels:
| | | | | |
| --- | --- | --- | --- | --- |
| Grade | Tensile Strength (MPa) min | Yield Strength 0.2% Proof (MPa) min | Elongation (% in 50mm) min | Hardness |
| | | | Rockwell B (HR B) | Brinell (HB) |
| 904L | 490 | 220 | 36 | 150 |
Physical Properties
The physical properties of grade 904L stainless steels are tabulated below:
Table 3. Typical physical properties of grade 904L stainless steels
Grade

Density
(kg/m3)

Elastic Modulus
(GPa)

Mean Co-eff of Thermal Expansion (µm/m/°C)

Thermal Conductivity
(W/m.K)

Specific Heat 0-100°C
(J/kg.K)

Elec Resistivity
(nΩ.m)

0-100°C

0-315°C

0-538°C

At 20°C

At 500°C

904L

7900

190

15

-

-

11.5

-

500

952
Grade Specification Comparison
The following table outlines the approximate grade comparisons of 904L stainless steels:
Table 4. Grade specifications of grade 904L stainless steels
Grade

UNS No

Old British

Euronorm

Swedish SS

Japanese JIS

BS

En

No

Name

904L

N08904

904S13

-

1.4539

X1NiCrMoCuN25-20-5

2562

-
904l grade stainless steel:
316L A lower cost alternative, but with much lower corrosion resistance.
6Mo A higher resistance to pitting and crevice corrosion is needed.
2205 A very similar corrosion resistance, with the 2205 having higher mechanical strength, and at a lower cost to 904L. (2205 not suitable for temperatures above 300°C.)
Super duplex Higher corrosion resistance is needed, together with a higher strength than 904L.
Key Features:
1. Corrosion Resistance:
2. Heat Resistance:
3. Heat Treatment
4. Welding
5. Fabrication
What is 904L Applictions:
Stainless steel 904l Uses
Scrubbing assemblies, acid and fertilizer producing system, control and instrumentation pipes, seawater quenching equipment, Acid processing apparatus, gas rinsing, condenser tubes, heat exchanger, oil and gas processing, paper and related industry.
Industrial Nomenclatures: UNS N08904, AFNOR Z2CNDU 25-20, VLX904, AL 904L, Cronifer 1925 LC, EN number 1.4539, EN name X1NiCrMoCu25-20-5, W.Nr. 1.4539, DIN X1 NiCrMoCu25 20 5, BS 904S13
Stainless steel 904l Specifications: ASTM B625, ASTM B649, ASTM B673, ASTM B674, ASTM B677, DIN 1.4539, ASTM A213, ASTM A269, ASTM A312, BS EN 10216 pt.5
Stainless steel 904l Formation
Hot processing of Steel 904l is done from 2000oF to 2200oF. Complete annealing of this grade can be done by any hot processing technique to maintain the highest ductility and corrosion resistance property. It can be annealed up to 1990of or 1090oC then quick quenching. It has similar cold processing nature to standard austenitic steel grades like 304, 316 etc. SS 904l can be work hardened by cold reduction and machined by any standard methods. However subsequent annealing is not needed in many cases, it should be done when the production is conducted in the SCC media. For welding of 904l steel, fusion and resistance welding techniques are recommended, however it can be welded by any standard techniques. SS 904l doesn't need pre-heat and post weld processing.
Forms Produced
---
About Hunan Allianz Metal products CO.,LTD :
Hunan Allianz Metal products CO.,LTD was established in 1996, and RONSCO as our brand was built in 2014. As an integrated supplier of special steel for the global market, we've earned a high reputation in special steel industry through out the world. We have provided over 1,000 customers from more than 60 countries with our high-quality stainless steel & nickel alloy products, as well as professional service.
After 23 years of development, RONSCO Group have now grown up to over 200 employees who are specialized in special steel products. And our business has grown and developed from traditional industries to other new tech fields like oil and petrochemical, new energy, biological medicine, electronic communications, mechanical engineering, special shipping, rail transportation, aviation and aerospace.